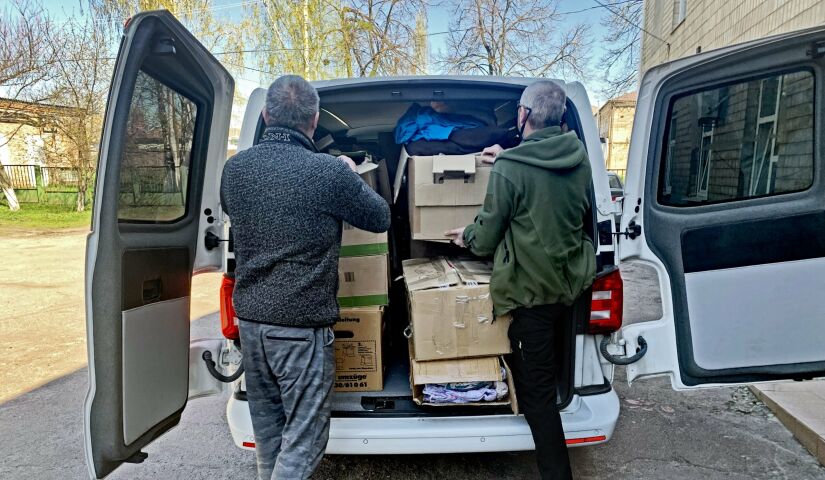 The International Charitable organization continues to help regions affected by russia's military aggression against Ukraine.
Recently, a representative of the Foundation Anatoliy Voloshin visited Ichnia, Chernihiv region, with a humanitarian mission. He had a meeting with the first deputy mayor of Ichnia on the activities of executive authorities Yaroslav Zhyvotyaga and Parimatch Foundation partner coach of the Sports Mentor program Yevhen Zinich.
— Everyone here in Ichnia keeps the spirit high. There was fighting here, that caused huge damage to the region, but our defenders expelled the occupiers from Chernihiv and now the city comes to life. Everyone contributes to Ichnya's rebuilding and helps each other,
— Anatoly Voloshin, a representative of the Parimatch Foundation said.
The Parimatch Foundation brought to Ichnia a humanitarian cargo with bed linen, blankets, pillows, and instant food. This aid will be directed to people, whose homes were damaged by Russian shelling around the region.
In April, the Parimatch Foundation has already arranged 200 sleeping places, which include a mattress, pillow, blanket, and bed linen each, in the Chernihiv region. The sets were distributed to internally displaced persons in the region.
— We really needed help from the Parimatch Foundation. 350 houses in the region were destroyed, there is no fuel, so we can not bring necessary medicine for those who had to stay here. The help of the Foundation is the real support of our citizens. People are thinking of sowing, everyone wants to work so that the country has bread. We are waiting for the fields to be cleared, and it will be possible to start working with no fear. Our residents still remember that fear they felt when the city was occupied, and they are still afraid it can happen again. Although the war is not over and Ichnia is not far from the Russian border, we all need stability. We hope that everything comes to life soon. It is important for us not to stop supplying medicines, diapers, and food to the region. We are very grateful to you for your support at such a difficult time,
— Oleg Vostrykh, the Advisor to the Chairman of the Ichnia Regional Territorial Community, Director of the Charitable Foundation «Development of Ichnia region» said.
It is to be recalled that Ichnia is a partner city of the Parimatch Foundation. On December 12, 2021, the Sports Mentor program was presented here. This program helps children and adolescents in difficult life circumstances to socialize and change their lives through sports. The goal of the initiative is to demonstrate that sports and coaches' support allows teenagers to achieve success in sports and life.
Unfortunately, the Sports Mentor program has been temporarily suspended because the war has changed the vector of the Parimatch Foundation's activities. Now the priority is providing humanitarian assistance to the most vulnerable groups of people affected by the war in Ukraine. However, we continue to support our partners.