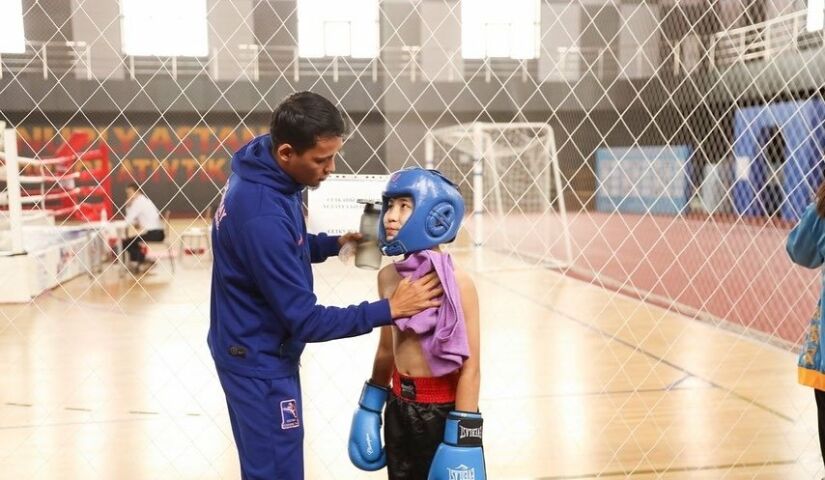 The international charity organization Parimatch Foundation provided sponsorship assistance to young athletes from Kostanay to participate in kickboxing competitions in Astana.
Parimatch Foundation continues to support the development of children's sports in Kazakhstan. A kickboxing competition for athletes of different age categories took place in Astana on September 25 – 27. Sponsored by the Foundation four athletes from Kostanay born in 2009-2015 could take part in the competition. They were accompanied by coach Talgat Bukbasarov, the regional champion, two-time champion of Kazakhstan, two-time World Cup winner, and two-time World Championship participant.
— We were happy to help the children from Kostanay to perform and demonstrate the results of their hard training. They did their best and won medals. We are sure that they will be able to win a lot of titles representing Kazakhstan in the future, – said Viktoriya Andreyeva, Parimatch Foundation project specialist in Kazakhstan.
It should be noted that kickboxers from Kostanay have already achieved significant results. For example, Zhandos Tursyn (2009) is a regional champion and Kazakhstan championship medalist. Alisher Mulzhigitov (2010) and Timur Nasybulin (2013) are winners of regional and republican tournaments. The youngest participant, Leon Brodskyi (2015), has already won the title of regional champion.
In Astana, each of them finished on the podium. Nasybulin won four fights and became the 1st in the weight class up to 27 kg. Brodsky finished 2nd in the weight class up to 21 kg. Tursyn and Mulzhigitov had three fights each and won bronze medals.
— Kickboxing is gaining more and more popularity in Kazakhstan due to its versatility. Athletes from all regions gather at tournaments. This time, the number of participants reached 500. The children were very satisfied with the trip and the results of the competition, – said coach Talgat Bukbasarov.
Bukbasarov has been coaching for over two years. He is sure that there are future world champions among his students, but the development of sports in Kazakhstan requires more resources.
— We have a lot of capable guys, especially in villages and auls. Many of them do not have the opportunity to visit the training and go to competitions. But in my opinion, the development of kickboxing and sports, in general, should start in that regions. We are grateful to the Parimatch Foundation for supporting young athletes.

Since 2019, the international charity organization Parimatch Foundation has been implementing charitable programs and projects in the fields of sports and innovative education. The Foundation invests in a healthy and conscious future generation and also popularizes sports, a healthy lifestyle, and motor, and physical activity. The Parimatch Foundation projects are aimed at ensuring that every child, regardless of physical conditions, social limits, and other possible barriers, has equal access to education and sports.