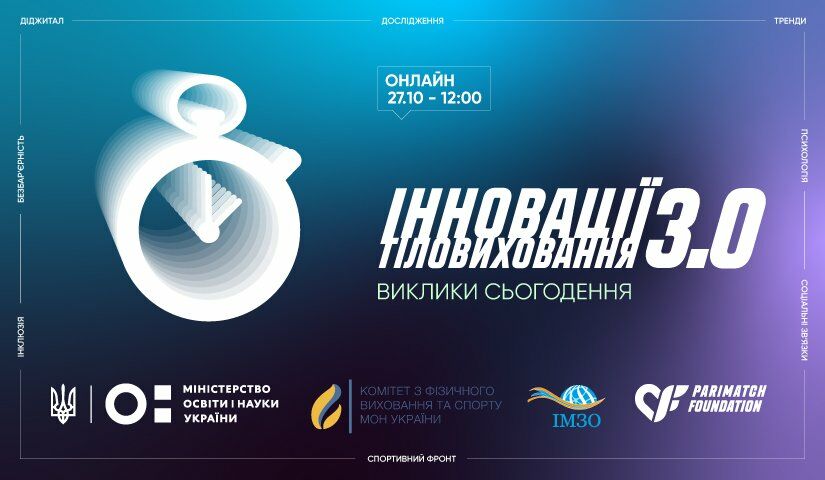 On October 27, 2022, at 12.00 a.m, the International Charitable Organization Parimatch Foundation will hold a large-scale annual online conference «Innovations of physical education 3.0. Nowadays challenges». It is aimed at uniting active teachers, sports representatives, and scientific experts.
The educational online conference supported by the Ministry of Education and Science of Ukraine, SSI Institute of education content modernization, and Committee on PE and Sports of the MES of Ukraine have been held for the third year in a row. The event brings together active teachers, trainers, PE experts, and psychologists. In particular, parents and guardians, organizations related to the educational and sports community, and those who monitor trends are among the participants.
Over the past two years, more than 24,500 people have attended the free online conferences «Innovations of physical education» and «Innovations of physical education 2.0». This year, the content was filled with basic questions corresponding to requests, challenges, changes, and innovations in PE, sports, and mental health.
During the event, participants will receive answers to the following questions:
How to adapt physical education lessons to the present?
What are the modern teachers' innovations and new approaches?
What is the direction to improve my qualifications in?
How does exercise affect mental health recovery?
There are international organizations and the MES representatives, professional coaches, honored teachers of Ukraine, winners of the innovative teachers' competition, international experts, and athletes among the speakers of the conference.
All conference updates and speakers can be found on the event page on Facebook.
Conference parts
Trends and innovations in the educational sector
New physical education – overcoming challenges
Mental health and social connections
Inclusion and accessibility
Sports front
Date: October 27, 2022
Start: 12:00 (local time)
Participation in the conference is free. To receive a streaming link please click the link to register in advance: https://parimatch.foundation/innovatsii-tilovykhovannia-3-0.
Reference:
Parimatch Foundation is an international charitable organization founded in 2019. The Foundation's activities are aimed at providing children with equal access to education and sports regardless of their physical characteristics, social status, and other barriers. The main lines of work are assistance and support in the field of sports and education. Parimatch Foundation has been implementing 6 comprehensive programs: «Yes, I can», «Sports mentor», «New physical education», «Boost4Best», «Help for Ukraine» and «Mental Health».