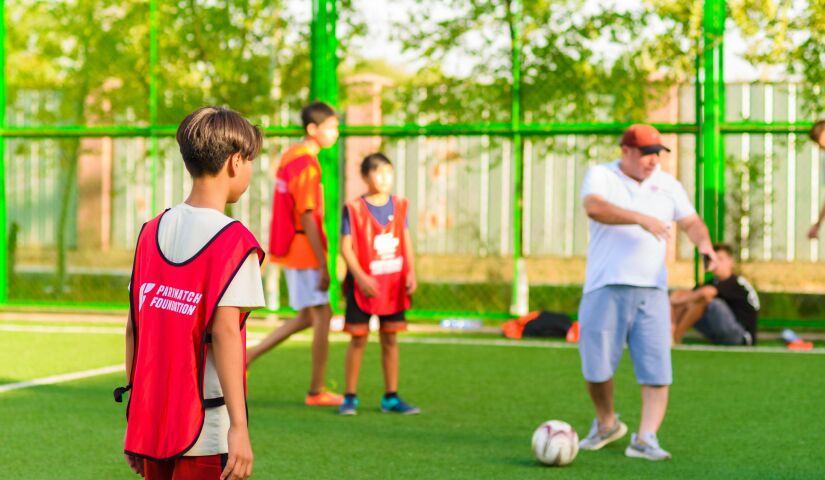 Parimatch Foundation, an international charitable foundation, supported the organization of the Zhaidarly Zhaz children's closed football championship, in which the wards of Orphanage №4 of Shymkent took part.
The tournament was held for two days, July 23-24, on the territory of the Ush Bulak children's camp. 48 players took part in the competition, including 30 children from Orphanage №4, who are pupils of the Parimatch Foundation's program — "Sports Mentor".
In November 2021, the Foundation opened two new football and basketball sections in one of the largest orphanages in Shymkent. The children were given new uniforms and sports equipment, professional coaches with a significant track record and achievements in sports provided trainings for them. After persistent training, young athletes began to actively participate in city and republican tournaments, which are also supported by the Parimatch Foundation.
— Almost a year has passed since the launch of the Sports Mentor program at Orphanage №4. The kids not only showed enthusiasm on the very first day of the opening of the sections, but also retained this energy throughout the whole year, which is immediately evident from the results. We are happy to follow their development and are proud of each new achievement, — said Victoria Andreeva, official representative of the Parimatch Foundation in Kazakhstan.
It is actually something to be proud of. In the last tournament, one of the teams from Orphanage №4 took first place and gained the victory in two categories: the best forward and the best goalkeeper. The young champions were mentored by the coach — Marat Turliev, Candidate Master of Sports and the champion of Kazakhstan in football, a former player of Zhiger FC, Shymkent, and Kairat FC, Almaty.
— Children are very talented and hard-working. They always do their best during trainings, strive to become the best regardless of their life circumstances. It is great that there are organizations like the Parimatch Foundation that are ready to support the spirit of sports in the younger generation. I am sure that in the future we will gain even more victories, — said Marat Turliev, coach.
Sport is not only about victory. The administration of the orphanage notes positive changes in the mood and development process of their wards with the advent of new sports sections.
Our wards had a difficult fate. At some point they were deprived of simple childhood joys, some emotional wounds have not yet healed. Sport is invaluable to them. It calms, gives positive emotions and develops self-esteem. The previous school year was especially happy for our children. Thanks to the financial support of the Foundation, excellent coaches and real professionals have worked with them. This gives a positive example of an athlete, a friend and a mentor for the children. The kids love them and are always happy to join a training, — Nursaule Tastybayeva, director of Orphanage №4 in Shymkent, shared her impressions.