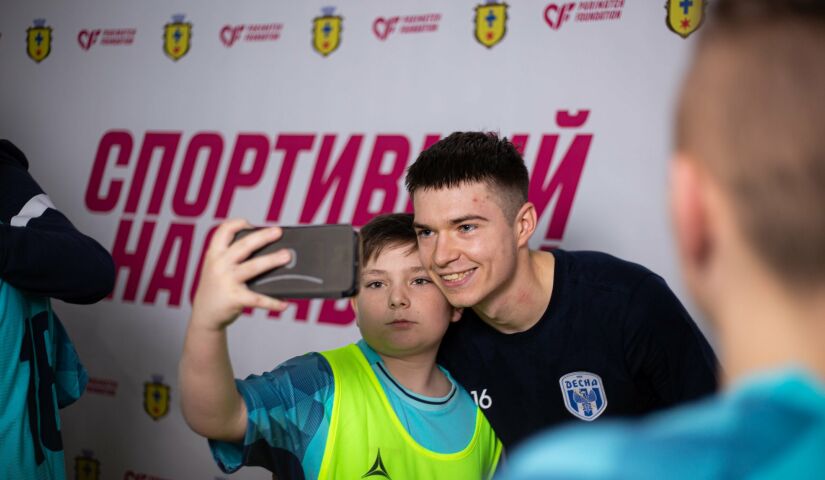 On December 12, in the city of Ichnia, Chernihiv region, an open football training was held for children in difficult life circumstances.
Together with local partners, the foundation has created another branch of the Sports Mentor program. At the start, 22 teenagers are engaged in a group with a coach. At the opening of the program, they played for the first time with professional footballers.
Famous Ukrainian football players of Chernihiv "Desna" Denys Bezborodko, Ihor Lytovka and Yevhen Belych also attended the open training. After the joint warm-up under the guidance of mentor Oleg Solovyan, the children played a friendly match with the Desnians. The intense struggle escalated into a series of penalties, in which the teenagers were able to score several goals at once against the Lithuanian.
After the game, the children received sports gifts, and the star players received a ball with the autographs of the program participants. After all, today they are newcomers, and tomorrow they will become champions.
"By involving children in sports, we motivate them to reveal themselves, become more confident, realize themselves in sports. Together with local partners, we try to draw attention to the importance of a sports mentor, the key role of sports in the development of a child, finding yourself and realization, "said Vadim Misyura, Director of the International Charitable Foundation Parimatch Foundation.
The project was launched thanks to fruitful cooperation with local partners of the Parimatch Foundation – the charity fund "Development of Ichnia", CYSS Ichnia and representatives of local government. Currently, Ichnia OTG is in the process of reform after decentralization. And such initiatives are extremely important for the community, because most resources are focused on solving urgent problems, said Acting Volodymyr Chernov, Head of the Pryluky Regional State Administration.
"I am a father, I have two sons, so I understand how important sport is. And I am very grateful to the Foundation for the support of our community, because today we are still in the process of reform, solving a lot of problems and various issues. But despite all the difficulties, we all support sports and are happy to launch the program. After all, watching our happy teenagers is a real pleasure, "Volodymyr Chernov shared.
According to Ichnia Mayor Olena Buturlym, the Sports Mentor program will help local teenagers change their lives because instead of bad companies, children enter the world of sports and work on their own development.