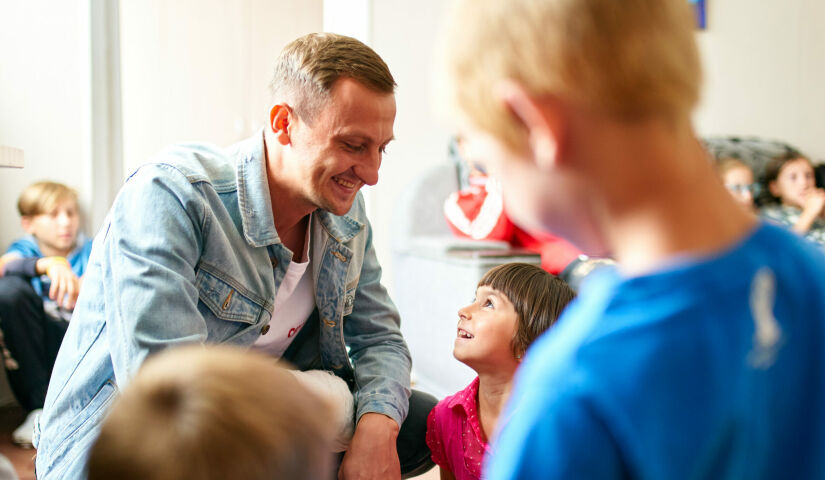 Volunteers and volunteering activities became a distinctive aspect of Ukraine with the beginning of the full-scale invasion of Russia on the territory of our state. Ukrainian volunteers surprise, impress and inspire with their determination, tirelessness, and endurance. How to become a volunteer in Ukraine we understood back in 2014, but after February 24, 2022, the types of volunteering changed turning into nationwide activity.
How to become a volunteer during the war
Volunteering is a voluntary process. Anyone can engage in charitable activities for free, but before you decide how to volunteer during the war, you should consider your strength, stress resistance, and endurance. And you also need to clearly understand what you can be responsible for, and how it is comfortable for you to work: alone or by joining an active charity project.
Parimatch Foundation account manager Anatoly Voloshyn knows precisely how to become a volunteer and shares his story. He is called an ambassador of good by his colleagues in the Foundation.
Volunteering has been an integral part of my life even before I started working for Parimatch Foundation. This is what inspires, and gives strength to move on. These emotions are incredible not only for you but also for the people or animals or society you help. You feel how important it is. If you want to change the world, start changing yourself, that's what Buddhism says. If you change your environment the whole world will change. All this happens when volunteering, – Anatoliy says.
However, when looking for ways how to become a volunteer in Ukraine, or already helping people in need, you hardly expect to immerse into war-related activities. But after February 24, the life of Ukrainians changed, and the usual affairs lost their relevance. The life of Anatoly, who had to adapt, also changed.
Charity is my job, but after February 24 we work constantly 24/7, without a day off, from early morning till late night, and the scope of work has increased. You need to go somewhere all the time, come up with something, and solve the separate volunteer tasks, – says an employee of the Foundation. – I am often asked how to volunteer during the war. To be a volunteer is always to be determined, to help, and to have the strength to do what is needed. I was looking for what I could do to help and help there. I just monitored social networks and chats that informed, where the help was needed. For example, we had an explosion in Poznyaki (Kyiv district), and there was a request for heaters, I realized that it was not far from me, so I brought the heaters there, and they are still there today. So, the main thing is desire. You can become a volunteer when you want, and in fact, every Ukrainian is now a volunteer, everyone helps and contributes, and this is also volunteering.
There were many stories during the war. A trip to Ivankiv immediately after it was liberated comes to my mind. We had a request to take humanitarian aid there because there were blown-up bridges everywhere and people didn't have food and everything else. Together with the volunteers of Parimatch, with Sasha Tkach on his super Tesla, and with Danylo Sologubov, we bought food and first need things and left for there. It was very scary, we went so far for the first time, in bulletproof vests. We saw the consequences of the occupation for the first time. Everything was blown-up, the roads were broken. Our Tesla flew over potholes and almost fell into the lake. We saw this devastation, and we were happy that we could still get there, cross the blown-up bridge and still deliver help to people. At such moments, you realize that you don't need to look for an answer to how to become a volunteer, you just need to do what you think is necessary, just help.
Types of volunteering
With the beginning of the full-scale invasion of Ukraine, the types of volunteering changed. For example, Parimatch Foundation – previously focused on educational and sports projects for children – has re-allocated most of its resources toward helping Ukrainian women and children survive the war and get to safety. To be more effective, the Foundation created a few aid branches: humanitarian aid and medical needs, financial aid and fundraising, establishing new partnerships to raise funds, and sustaining the necessary projects of the Foundation. Overall, Parimatch Foundation has spent over €510,000 since February 24th to support people impacted by the war. More than €190,000 of them were used to purchase humanitarian aid.
– Talking about the Parimatch Foundation's activities I was involved in almost all projects, – says Anatoliy Voloshyn. – It is very difficult for me to separate work and volunteering now. I would even take "Kyiv Reds" – I am the head of this Manchester United fan club in Kyiv – we raise money for the military, civilians, the families of victims, for children, and humanitarian aid delivered to Ivankiv was also bought thanks to football fans. The directions are very different. The only type of volunteering I did not participate in was the purchase of weapons and military equipment.
How to register as a volunteer
Many volunteers work independently during the war, but some still create organizations that would allow them to work more efficiently. The question of how to officially become a volunteer is answered by Ukrainian legislation.
Two forms of legal entities are best suited for volunteer purposes:
– a charitable organization aimed at charitable activities;
– a public association aimed at joining efforts to solve certain issues.
Both legal forms can be registered during martial law through state registrars, which are included by the Ministry of Justice in a special wartime list. The Cabinet of Ministers of Ukraine also announced the contact details of the regional Administrative Service Centres, which can be contacted on these issues. During martial law, you can apply for registration at any ASC in Ukraine. Documents can be submitted in person or via e-mail. The terms of registration of the organization will depend on the workload of the registrar and the security situation in a specific region.
Individuals can join charitable initiatives by submitting a special application through the feedback form on the charitable organizations' websites, or in any other specified way. Before registering a volunteer, charities may conduct interviews and request additional information about the applicant.
How to distinguish fraudsters from volunteers
Unfortunately, fraudsters trying to profit from the desire of Ukrainians to help the Armed Forces or people affected by the war are widespread. Therefore, it is essential to restrain emotions and check data about volunteers, their projects, or individual cases. Always search for additional information about the organization or individual volunteer, read reviews, check social networks, review reports for previous expenses, contact the volunteer if necessary and find out the details of the donation target. Doubt and don't be fooled.
Anatoliy Voloshyn also advises donating only to verified volunteers and public organizations: – I work only with people I can trust, these are my friends and relatives. Fraudsters may have happened, but I didn't get involved. On Instagram, there were requests like "I'm a military man, drop me UAH 50." This is a bizarre situation. Feel free to ask more questions. Ask why a person happened to be in such a situation, and why no one can help. And this unmasks people.
Therefore, it is important not only how to become a volunteer, but also how to create and maintain a reputation as a person you can trust.
How to act when you witness the sale of a humanitarian cargo
After humanitarian aid began to be delivered in Ukraine from various countries of the world, there were more frequent cases when it did not reach the people who needed it but ended up on store shelves.
So, if you witness the sale of humanitarian cargo, do the following:
– register the fact of the sale of the goods by filming or making photos.
– as a consumer, contact the store administration with a request to provide quality certificates or documents confirming the legality of the sale of the product.
– report a possible offense to the police by calling 102 or the Security Service of Ukraine hotline at 0-800-501-482.
Anatoly emphasizes that everyone's care can save hundreds of human lives, who expect to receive timely and much-needed help. So if you still hesitate about how to volunteer during the war just start to be caring for the people next to you and help those in need.