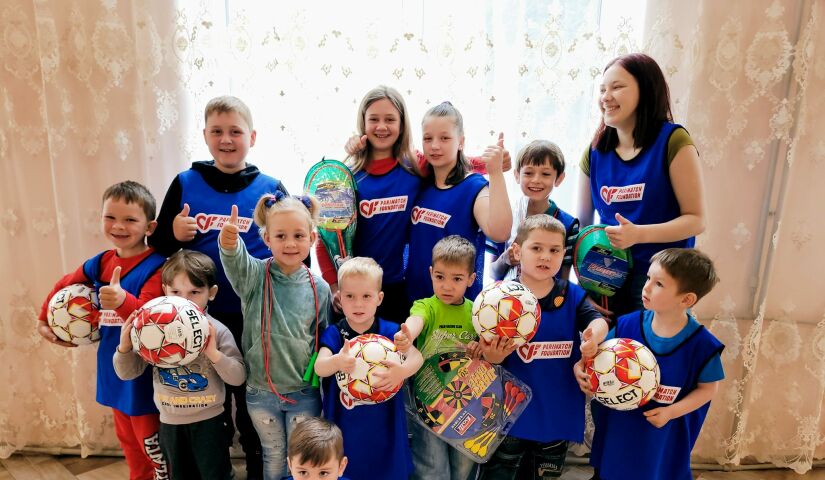 Parimatch Foundation, which mission is to educate and involve children in sports, providing equal opportunities for all in wartime has re-allocated all of its resources toward helping people affected by hostilities.
One of the priority areas of assistance is providing humanitarian aid to the Foundation's partner cities, where various projects of our charity organization were implemented in peacetime. One of such cities is the smallest city in Ukraine – Uhniv.
Parimatch Foundation team delivered food packages to 30 families in Uhniv. Each box weighs up to 15 kg and includes oil, flour, buckwheat, rice groats, pasta, oatmeal, sugar, salt, instant coffee, tea, buckwheat porridge with pork, stew, corn, beans, dry soups, cookies, and chocolate. This amount of food is calculated to be enough for a family of 4 for a month.
At the same time, the Foundation keeps on implementing its mission to involve children in sports, so sports equipment for various sports like football, basketball, volleyball, badminton, chess, checkers, and darts has been sent to Uhniv. Therefore, children will be able to train and choose their favorite sport. On the one hand, this is the way to make children healthier; on the other hand, sports help to cope with emotional shocks, which is essential now.
It's to be noted that Uhniv is not the only city that will receive sports equipment from the Foundation. Parimatch Foundation has prepared 100 sports kits, which will be distributed to five regions of the country where shelters for internally displaced persons are located. Educational institutions of the Lviv region were the first to receive sports equipment.
– Children are our future. Today our little citizens live in the smallest city in Ukraine, study, and develop physically and mentally. The management of Uhniv Agricultural and Construction Lyceum sincerely thanks the Foundation for support for our children. Perhaps, future winners of sports competitions who will glorify free Ukraine are growing up here right now. We are proud to cooperate with the Parimatch Foundation, Lyubov Osmilovska, director of the State Educational Institution Uhniv Agricultural and Construction Lyceum.
The Foundation has decided to gradually resume pre-war sports programs and create new projects to help speed up children's psychological rehabilitation. The Foundation plans to continue training sessions for participants of the "Sports Mentor" and "Yes, I can!" programs shortly. Children who stay in hubs for temporarily displaced persons in the West of Ukraine will be able also to join the programs. The program's main goal is to involve as many children as possible in sports.