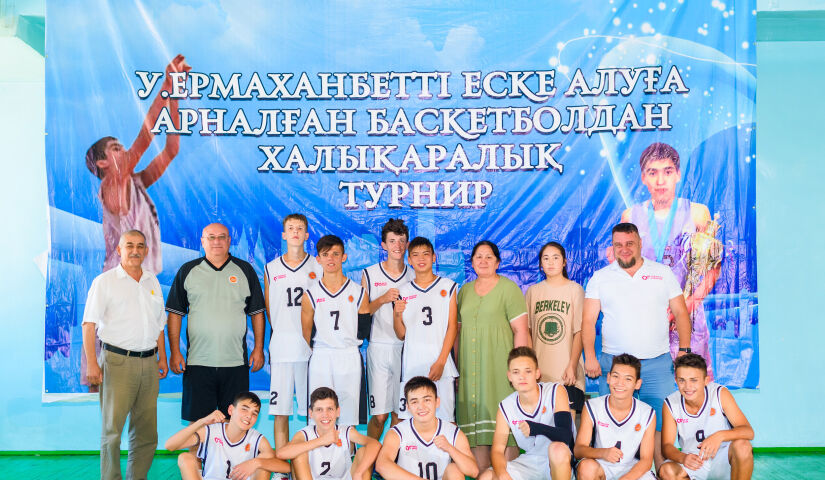 An open Republican basketball tournament in memory of Yermakhanbet Ulasbek was held in Shymkent from July 10 to 16. As part of the Sports Mentor program initiated by the international charitable organization Parimatch Foundation, children from orphanage No. 4 in Shymkent took part in the tournament.
The competitions brought together 84 young athletes who formed 6 teams. They fought bravely for the victory. The hosts of the competition won two classes of medals.
— I am happy to be the "Sports Mentor" program coach. I have been working as a coach since November 2021. I had the opportunity to work with very talented guys and watch their achievements. Sport hardens not only the body but also the spirit. We learn not to give up in defeat and set the task of becoming better every day. It's nice to see the boys' motivation, fire in their eyes, and self-sacrifice during a training session, – says Danylo Seredynskyi, the basketball team head coach.
Five youngsters from the orphanage were awarded as the best players of the tournament: Andriy Dayanov, Orazkhan Aslambek, Georgy Gusev, Bekmukhamed Aslambek, Bohdan Kyrychenko.
— The "Sports Mentor" program participants did their best and were almost equal with the other teams. Unfortunately, the boys did not take the prize, but they showed team spirit and the will to win. The tournaments like this and practice in games will allow them to acquire the necessary skills and compete with more experienced players in the future. The boys are very diligent, they show technique and perspectives. It's great that young athletes have the opportunity to train with a professional coach, — the main referee of the competition, Volodymyr Sobitov, shares his impressions.
Sports Mentor is a program initiated by the international charitable organization Parimatch Foundation, that helps children, regardless of their social status, to develop self-confidence and physical and social skills through sports. Sports exercises are used as a tool to develop qualities such as discipline, self-confidence, and the ability to work in a team. The project demonstrates faith in children and the idea that they can achieve everything when making efforts.
— Our Foundation aims to reveal the potential of young athletes and develop their self-confidence to take new heights. We try to ensure our children participate in various sports tournaments, both individual and team competitions when the coach becomes an integral part of the preparation. The coach can guide the child, set the suitable vector of sports development and help in self-realization, — says Victoria Andreeva, representative of the Parimatch Foundation in Kazakhstan.