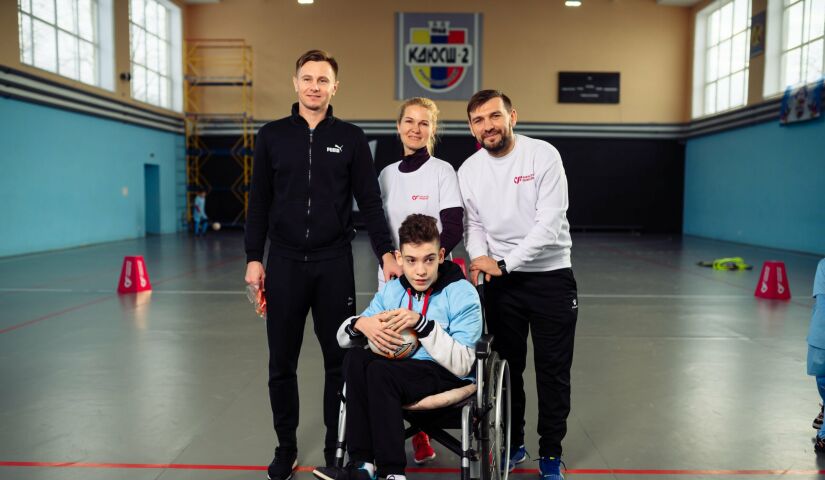 December 25 on the basis of Kropyvnytskyi CYSS № 2 wards of the program "Yes, I can!" took part in open training, which was the result of the first year of the program in Kropyvnytskyi.
The project started in the city in the spring of 2021. Children with disabilities have the opportunity to play football with coach Yevgeny Zinoviev, the 2016 Paralympic champion in Rio de Janeiro and a master of sports of international class.
"Training started with a group of 8-9 people, and now there are 26. Among the children there are those who have significant disorders, and it happens that they themselves begin to perform exercises even without assistance. Some parents, watching this, start crying because they no longer believe in anything, and here are the results. " said Yevgeny.
During training, children develop intellectual abilities in parallel with physical activity.
"Football is not just about running around the hall or the football field. We work a lot with various equipment that improves coordination, perform exercises on motor skills, logic and intelligence development. For example, there is a task to run on a certain color. Before this exercise, we still learn colors. I ask the children what color it is, where it is located, in which direction to run. It's also important for them to know. "
The training was also attended by Vitaliy Parkhomenko, director of CYSS № 2, Oleksiy Chychykov, football player, Viktor Bezsmertny, head of the Kirovohrad Regional Football Association, Lyudmyla Shukruta, head of the Mother's Heart NGO, and Vyacheslav Gursky, head of the Kropyvnytskyi City Council's Youth and Sports Department. Summing up the first year of the program "Yes, I can!"
"The result of the program is that the children were united by systematic training. They and their parents have new acquaintances with whom they have something to talk about and something to share. It is one thing when a child grows on his own, and another – when he goes in for sports and when his achievements are encouraged, "- said Vitaly Parkhomenko.
In addition to unforgettable emotions, the children received New Year's gifts. See you in Kropyvnytskyi!