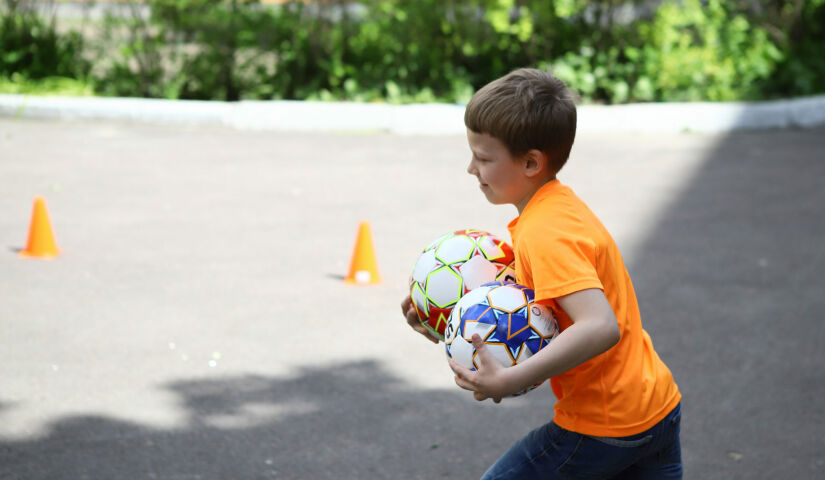 Sport is one of the most effective ways to rehabilitate quickly and return to normal life. Sports activities help to accelerate children's physical and psychological rehabilitation.
It is symbolic that up to June 1, the International Children's Day, the Parimatch Foundation has prepared 100 sports kits to be sent to five regions of the country where shelters for internally displaced persons are located. The first to receive sports equipment was the Lviv region. It is a key Ukrainian region that provided shelter to internally displaced people who had fled their homes due to Russia's invasion of Ukraine. 50 educational institutions in the Lviv region will be provided with modern sports equipment. Each sports kit includes equipment for going in for different kinds of sports like football, basketball, volleyball, badminton, chess, checkers, and darts.
In peacetime, the Parimatch Foundation did its utmost to improve the health and well-being of society by providing children with equal opportunities and access to sports and education. During the war, the main focus was redirected on helping children in evacuation and providing psychological support to families affected by the war.
Currently, the Foundation has decided to gradually resume pre-war sports programs and create new projects that will help to speed up the psychological rehabilitation of children. Thanks to modern sports equipment, children will be able to spend their leisure time actively when training. And because of the variety of equipment, everyone can choose the game they like the most.
– The life, health, and rights of every child are the greatest values and priorities for the Parimatch Foundation. In peacetime, all our projects were focused on children's healthy, conscious and happy raising. The idea of working with children was fundamental for the Foundation so we consider Children's Day to be extremely important. It is vital now when children need even more attention, protection, and support. Therefore, we decided to resume pre-war sports programs gradually even if we are mainly focused on evacuation, humanitarian aid, and psychological support to families affected by the war. Being involved in sports activities helps to accelerate children's psychological rehabilitation. We wish our children could turn back to their active and happy life as soon as possible. – says Kateryna Biloruska, President of the charitable foundation.
The Foundation plans to resume training sessions for participants of the "Sports Mentor" and "Yes, I can!" programs shortly. Children who stay in hubs for temporarily displaced persons in the West of Ukraine will be able also to join the programs. The main goal of the programs is to involve as many children as possible in sports. The Parimatch Foundation is also launching a comprehensive program "New Physical Education" aimed at developing teachers' pedagogical skills to make physical education lessons interesting and useful for students and increase their physical activity.
Children are our future and we have to do our best to support them!